Entertainment

2014 Houseboat 75'x22'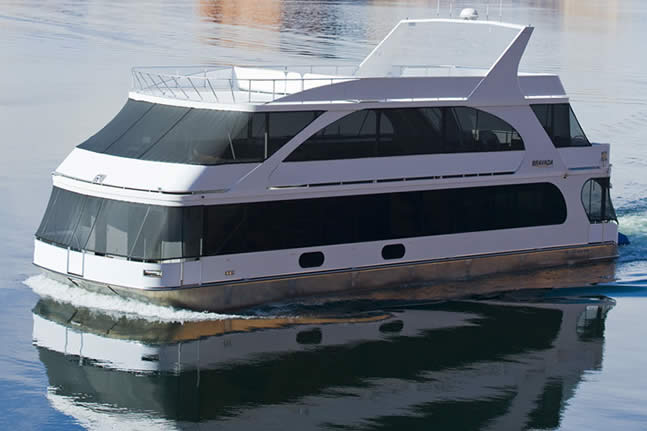 Standard Houseboat Entertainment Package:
Lake Powell Timeshares is pleased to offer one of the most robust entertainment suites offered on the lake today. With a focus on top notch quality and convenience, the entertainment focused technology on a Lake Powell Timeshares fractional ownership houseboat is sure to meet and exceed the most discerning passenger.
Living Room Entertainment Center:
Should you not want to miss your favorite team in the paly-offs, or perhaps your traditional family movie night, the living room entertainment center comes fully equipped to meet all your family's multimedia needs. Featuring a large 50" full 1080p HDTV flat-screen television mounted neatly in the custom built entertainment center, a Bose CineMate Home Theater Speaker System, Blue Ray / DVD player, and an Xbox 360 gaming system, everyone onboard is sure to enjoy relaxing together on the large leather sofa after a fun filled day on the water. What's more, the living room entertainment center also features full HD satellite signal using TracVision marine automatic tracking satellite antenna.
In room entertainment:
Each bedroom and kid cuddy on board features a professionally mounted flat screen TV / DVD combo with remote control. The TV's in the kid cuddys are especially great for younger kids to be able to enjoy their favorite movies and shows while the older kids or adults can still watch what they choose in other parts of the boat. The master suite features a wall mounted 32 inch TV / DVD combo.
Outdoor Speakers:
Whether you're looking to get liven things up a bit, get the party started, or you just like to have your favorite music on in the background while you lounge on the top deck or cruise up lake, you will be more than pleased with the high fidelity sound quality produced by the Bose 131 flush mounted outdoor marine speakers and the Bose 151 SE Environmental external mount speakers strategically positioned throughout the exterior. The multi-station sound system is fully controllable from the main soon control panel, and using AppleAir, you will actually be able to stream music directly from your Apple iPhone or iPod directly into the system and fully control each individual zone directly including volume control conveniently from anywhere on the boat with an integrated mobile application.
Outdoor Living Room:
The upper deck is all about bringing the indoors out, and what better way than with an additional upper deck living room featuring a plush outdoor sofa and remote controlled electronic flip-down 55" LCD TV. What will they think of next? So get ready to kick back and enjoy the best of all worlds!