Lake Powell Houseboats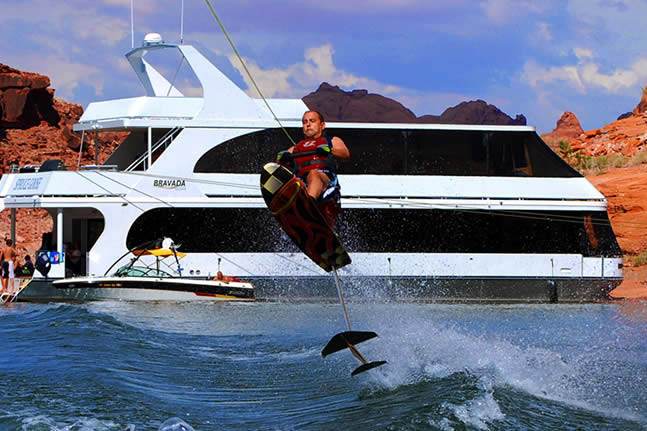 Houseboating:
Need to escape? For many of us, life has become very hectic with busy schedules for all members of the family. And with all the stresses of our fast paced demanding lives, it's becoming harder to experience true quality time with family and friends– to truly be in the moment, and bond with the ones we love.

On a Lake Powell houseboating vacation, everyone is able to experience together the splendor and the majesty of the breathtaking red rock canyons, the excitement of jet skiing throug winding canyons, and the calm of sitting out at night on the top deck enjoying the warm night air, watching shooting stars streak across the immaculate desert sky.

Lake Powell is considered by many to be the ultimate in houseboating destinations. Your whole family will look forward to returning year after year to enjoy the warm water, amazing views, adventurous canyons, and soft sandy beaches.

So put away your phone away, say good bye to the rat race, prepare to unwind and rejuvenate the soul aboard your very own luxury Lake Powell houseboat.

We look forward to speaking with you and seeing you on the lake!
Lake Powell Houseboats:
Lake Powell Timeshare houseboats are designed and built with superior creature comforts, great attention to detail, and ultimate enjoyment in mind at all times. Each hull and boat structure is designed by expert marine engineers to meet strict coast guard safety standards, while the interiors are carefully laid out, and the décor chosen by expert interior designers specializing in marine décor. Lake Powell Timeshares currently launches the largest allowable boat on the lake at 75 feet in length with a 22 foot beam for maximum room and comfort. All the latest technology in marine plumbing, HVAC, and electrical are all carefully integrated, and powered by dependable long lasting and efficient generators.